This week, it's time for a little spring cleaning. Now that the weather is warmer, I'll be throwing open the windows to let in some fresh air and  get to cleaning this house from top to bottom. I clean everything from the baseboards to the closets and everything in between. As part of my spring cleaning, I clean out the kitchen too. I get in and clean the freezer and pantry cabinets too. Everything gets pulled out, sorted, and used in upcoming meals.
Kitchen spring cleaning can get a little interesting when it comes to meal planning. I use what I have on hand and create meals that can get a little interesting.  This time around I found plenty of things to keep meals this week rather ordinary. In the pantry, there was plenty of vinegar and oil for salad dressings, raw nuts for salads and nut butters,  canned pickled beets, home canned peaches, pumpkin, lots of cheese, pasta, and potatoes. In the freezer, there was still plenty of chicken and ground beef from my last food co-op order, smoked salmon, and a few smoked sausage links. There was also some frozen rhubarb, strawberries, blackberries, and bananas that will be perfect for dessert and snacks. I still have fresh salad, carrots, tomatoes, and celery in the crisper. So, as you can seem there was plenty in my kitchen to create this week's meals.
Many of this week's meals and quick and easy. I'll be roasting 2 chickens at the beginning of the week. One will be for dinner and the other will be shredded to use in other dishes throughout the week. This is a great time saver. This week, I've also added a few desserts into the mix. We all have a sweet tooth lately, so why not. Plus we are having friends over for playdates and things too. I always like to make some type of snack or tasty treat for guests when they are here. Nothing says hospitality like good food.
Below is our clean eating meal plan for this week. If you would like to see previous weeks' meal plans, here they are:
Week 1, Week 2, Week 3, Week 4, Week 5, Week 6, Week 7
Clean Eating Meal Plan Week 8 

Desserts: 
Old Fashioned Pumpkin Pie, Blackberry Banana Ice Cream (dairy free, paleo), Whole Wheat Apple Sconces, Rhubarb and Strawberry Cobbler
Snacks:
Cherry Chocolate Adventure Bars, sliced celery with homemade peanut butter, raisins, and lightly salted popcorn
Monday
Breakfast- oatmeal with walnuts and sliced peaches
Lunch- Ploughman's Lunch (cheese, ham, pickles, pickled beets, baguette, dried cranberries and apricots)
Dinner- Roast chicken with roasted potatoes and carrots, caesar salad, garden peas
Tuesday
Breakfast- Yogurt with sliced strawberries and almonds
Lunch- Pear, walnut, and blue cheese salad on mixed greens with poppy seed dressing
Dinner- Thai Sweet Chili Chicken and Vegetable stir fry, brown rice
Wednesday
Breakfast- Whole wheat bagels with  fried egg and cheddar cheese, orange juice
Lunch- Pasta Carbonara, mixed greens with strawberries and bacon vinaigrette
Dinner- Spanish Tortilla with ham and potato, sliced cucumber and tomato with balsamic vinaigrette
Thursday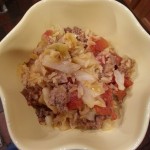 Breakfast- Scrambled eggs with salsa and cheddar cheese
Lunch- Spaghetti with marinara sauce, garlic bread
Dinner- Lazy Cook's Unstuffed Cabbage, sliced peaches
Friday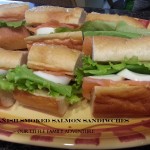 Breakfast- Omelette with avocado, cheese, and tomatoes
Lunch- Danish Smoked Salmon Sandwiches, baked potato chips,
Dinner- Baked potato with cheddar, broccoli, and sour cream, pickled beet and feta salad
Saturday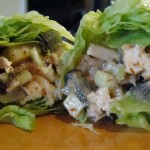 Breakfast- Strawberry stuffed French Toast
Lunch – Apple and Chicken Almond Wrap, veggie dippers with homemade ranch dressing
Dinner-  Low Country Boil (shrimp, sausage, corn, and potato), rustic bread, green salad with balsamic dressing
Sunday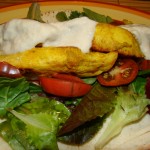 Breakfast- Potato and Kale Hash with poached eggs and Hollandaise sauce
Lunch- Vietnamese Spring Rolls with Thai peanut sauce
Dinner- Chicken Shawarma Wraps on pita bread, coconut curry rice, pineapple
If you like this meal plan and would like to receive more recipes and articles from me, please sign up for my email newsletter.
[mc4wp_form
I've shared this meal plan at:
Meal Planning Mondays at Org Junkie