Walking through the woods, you see all of nature's vibrant hues, smell the pine trees on the breeze, and hear the forest come alive in the distance. Those sights, smells, and sounds encourage us to get outdoors, explore, and enjoy our time in nature.
Hiking is a great reason to get outdoors and is an excellent form of exercise. It's a fun activity to do with your family and requires no special equipment. But, there are a few things you should always bring to make every hike a good one. I have put together a list of what I bring along on every family hike.

What to Pack when Hiking With Kids
Hiking Snacks
Snacks are a MUST when you go anywhere with kids. But on a hike, you can burn between 400-700 calories an hour. That's a workout that needs a little fuel to keep going.
Snacks provide motivation to keep going too. We plan for snack breaks at certain points to keep the kids motivated to keep going.
Plan to bring a variety of trail friendly snacks that don't need refrigeration or are easily squished; dried fruits, nuts, popcorn, granola bars, fruit leather, etc.
ALWAYS, Always, always bring water on a hike!!
Even if it's for a short 30 minute hike. As a rule of thumb, plan to bring and drink one quart of water for every 2 hours hiking.
As a parent, I always carry extra because I know my children won't carry what they'll need. It's better to have too much than not enough.
Skin Protection on a Hike
You need to protect your skin from the sun, wind, and insects when outdoors. Be sure you are wearing protective gear (long sleeve shirt, hat, long pants) or sunscreen/bug repellant.
Extra socks are good if your feet perspire. Changing your socks half way thru a hike will keep your feet dry and prevent blisters.
In Case of Emergency
First Aid Kit
A basic first aid kit is essential when traveling with kids. Your hiking first aid kit should, at a minimum, contain:
Pain reliever
Assorted bandages
Moleskin for blisters
Anti-itch cream
Tweezers to remove splinters
Epi-pen if your child has severe allergies
Whistle
If you get lost or become separated from your group, a whistle can help others find you.

Cell phone
A cell phone is good to call for help or to use a GPS to find your way. We carry ours with us as well as an extra battery stick. We enjoy geocaching as a family and will often use the phone to find caches while we hike.
Cleaning Up
Being outdoors means you will be getting a little dirty. From scrambling over rocks, picking up sticks, walking through mud puddles, kids find dirt. That's part of the fun! Before snacks and after bathroom stops, it's best to clean up. We'll bring these items to help us pack it in, clean up, and pack it out.
Trash Bags
You pack out whatever we pack in, that includes our trash. We carry a small trash bag and keep in on hand for wrappers, tissues, etc.

Cottonelle® Flushable Cleansing Cloths
On camping trips we always bring bathroom tissue with us. Even in improved campgrounds, the restrooms can run out. On hikes, we like to bring Cottonelle® Flushable Cleansing Cloths for a nice clean bum.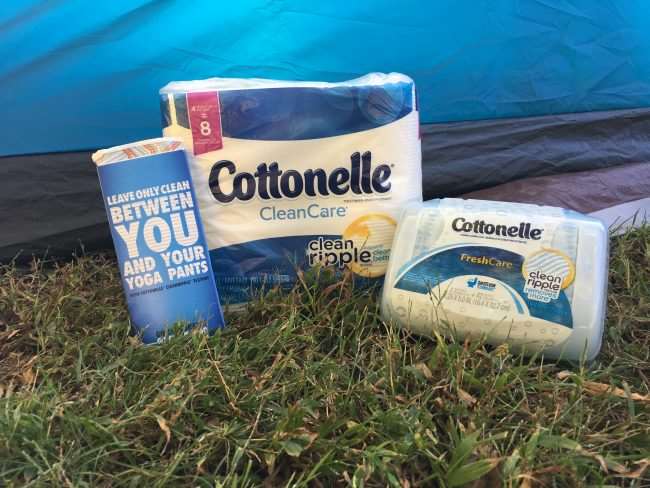 Cottonelle® with CleanRipple® Texture is designed to clean better, so you're clean & confident enough to go commando. The smaller package is ideal for the day pack and can be used by the whole family.
Get your money savings coupon here at Cottonelle®. 
All of these things are what we pack for a day hike with the kids. They help each hike be a great one!! We've joined with Cottonelle® to bring you a chance to win in the Fitness Must Have Giveaway.
Cottonelle® Fitness Must Haves Giveaway
The Cottonelle® "Fitness Must Haves" Reader Giveaway ("Sweepstakes") starts at 12:01 a.m. EST on October 17, 2016 and ends at 11:59 p.m. on October 28, 2016 (the "Entry Period")
Prizes:
Up to 20 Cottonelle® Fitness Must Haves Kit ($50 ARV)
Each kit will include a selection of fabulous fitness "must haves" — Cottonelle® Flushable Cleansing Cloths with CleanRipple® Texture, mascara, lip gloss, dry shampoo, extra hair ties and a plain, black basketball cap.
Cottonelle® is sponsoring the upcoming Wanderlust 108 Festival in Miami. This festival is a healthy and wellness event focused on mindful living, heather eating, and improving oneself. Whether you get out for a hike, hot yoga class, or a walk with the kids, it's important to take care of oneself and get moving for a healthier you! Cottonelle® with CleanRipple® Texture keeps you clean so you can feel confident enough to go for your fitness goals!
How do you keep clean and confident during your fitness routine?
I was selected for this opportunity as a member of CLEVER and the content and opinions expressed here are all my own.