You're heading out this weekend to go camping and you need to figure out what you and your family will eat. This camping meal plan has everything you need; recipes, grocery list, and meal plan. It includes meals for a 3 day camping trip for 4 people.
When you go camping, it's really important to have a meal plan for your trip. Unlike at home, you can't just go out and run to the store for something you need. The key to a successful plan to make it as simple as possible and prep as much you can before you leave home. These meals and recipes are all really easy to make and can be cooked on a campfire with a metal grate or outdoor grill. So there is no special equipment needed. But I recommend bringing a cast iron or fire safe skillet, a metal grate to place over the fire (an oven rack works great), and a good pair of barbecue tongs. With this camping meal plan, you can get most of the work done before you leave home, so you can relax and enjoy my camping trip.
Set Up Night- Day 1 Meal

Dinner: Grilled Pork Chops, grilled cinnamon peaches, corn on the cob, coleslaw
Day 2 Meals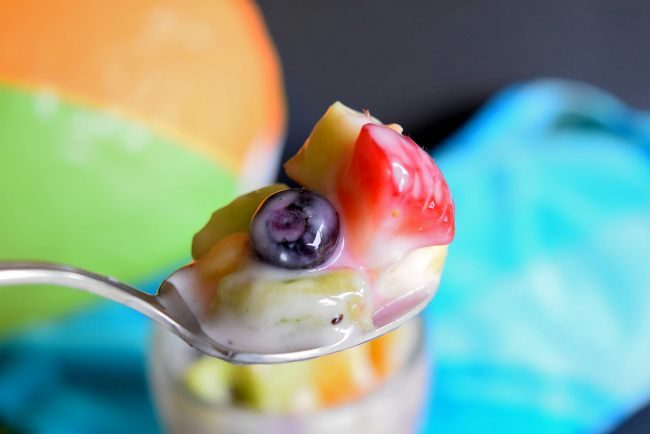 Breakfast: Creamy Summer Fruit Salad  or yogurt cups and fruit
Lunch: Ham and Swiss slices on whole wheat crackers, coleslaw
Dinner: Fresh Fish and Vegetables Foil Dinner (on the next page), S'mores
Day 3 Meals
Breakfast: Store bought muffins, fruit
Lunch: Chicken Nachos (recipe below), salsa or guacamole
Click NEXT PAGE for grocery list, additional recipes, and camping tips.