Camping Meal Plan Grocery List
This is everything you need for this meal plan, down to the spices.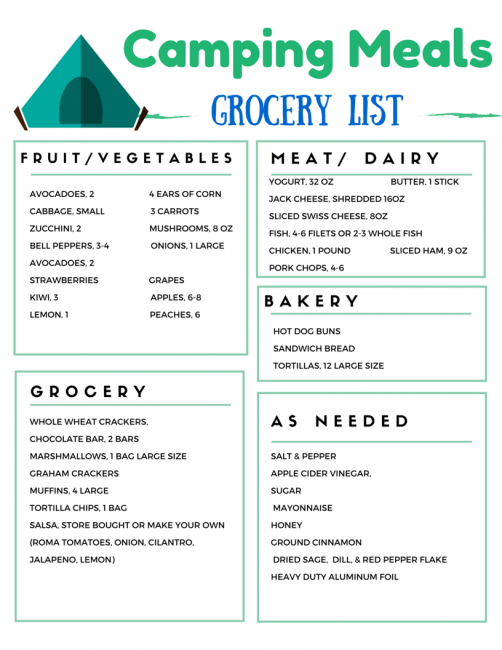 Recipes
These are the recipes not already included (hyperlinked) above.
Fish and Vegetables
4-6 fish filets (or 2-3 whole, cleaned fish)
2 Green Peppers, sliced
8 oz sliced mushrooms
2 Zucchini, sliced
1 lemon, sliced
Dried dill
Salt & pepper
Butter
At home or at the campsite: Season fish with salt, pepper, and dried dill to taste. Place sliced vegetables onto the foil sheet, followed up the lemon slices. Place the fish on top and top with 2-3 pats of butter. Wrap the foil in a flat pack. Freeze if making at home.
At the campsite: Place foil packets on a metal grate over medium heat on the campfire. Cook for 15-20 minutes.
Chicken Nachos
2 cups sliced chicken breast, cooked
1/4 cup sliced onions
1/4 cup sliced bell peppers
2 cups Monterrey Jack Cheese
Tortilla Chips
At home or at your campsite: In a skillet over medium heat, saute onions and peppers in butter. Cook until soft, about 5 minutes. Add chicken and heat thru. Remove from pan. Refrigerate or freeze, if you are making at home.
At your campsite: Heat chicken and peppers if pre-made. Place tortilla chips in a skillet or a bowl made with aluminum foil. Place chicken, onions and peppers, and cheese over the chips. Place skillet or foil bowl over medium heat on a camp stove or campfire. Cover with a piece of aluminum foil and cook for 3-4 minutes or until cheese is melted. Carefully remove aluminum foil. You can serve out of the hot skillet or separate out onto 4 plats. Top with guacamole and salsa.

Prep Plan before you leave for camping trip
Marinade pork chops in a ziploc bag and freeze in bag.
Make coleslaw at home and store in a ziploc bag or lidded container.
Cut up fruit for the fruit salad (breakfast day 2 and throughout the trip) and store in lidded containers.
Assemble fish and vegetable foil dinner packets. Freeze.
Precook chicken, onions, and peppers for nachos Day #3
Now you are ready for your 3 day camping trip with friends or family. This is everything you need for meals at the camp site. Store all of your frozen or refrigerated items in a cooler and your dry goods in a plastic container. As a family, we stick to improved campsites with drive up access, so we'll leave the cooler and dry goods in the car to eliminate curious furry visitors.
If you are looking for more camping meal plans and recipes, please see my first camping meal plan on a budget of $50, 26 Camping Recipes, 26 Breakfast Recipes, and Camping Breakfast Burritos.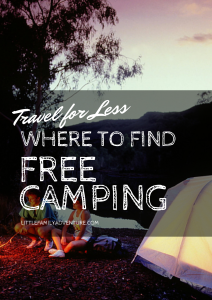 Also find FREE campsites around the country.
Please follow and like us: