As a Barlean's Ambassador I'm partnering with them and Lékué to bring you a new recipe for a vegan caramel popcorn that goes great with my Brown Sugar Ice Cream (also vegan).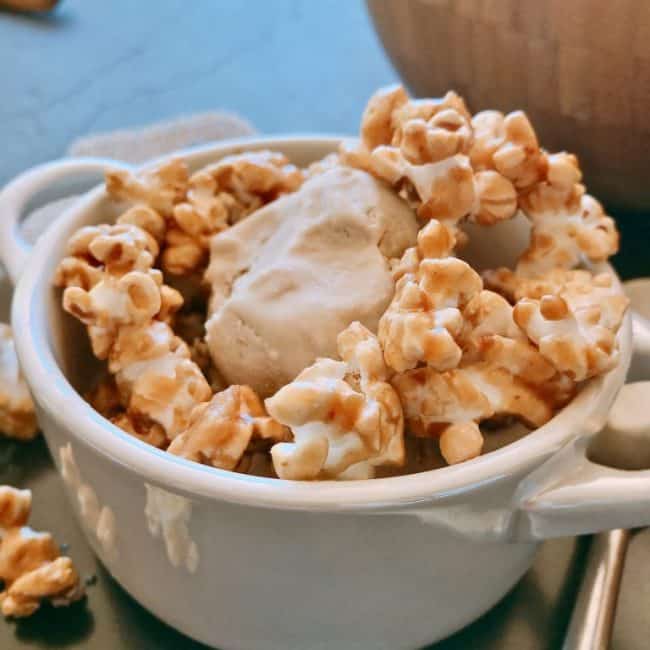 For the #popwithbarleans challenge, I was asked to create a unique popcorn recipe using Barlean's Butter flavored coconut oil and a Lékué silicone popcorn maker. I couldn't think of anything more unique than a dessert I had while in Gulf Shores, Alabama.
One night while in Gulf Shores, I went to dinner at Fisher's Upstairs Restaurant at Orange Beach Marina and tried a dessert they called the Steen's Cane Syrup Caramel Popcorn Dome. It was brown butter ice cream sitting atop a caramel wafer, topped with popcorn and drizzled with cane syrup (more caramel). Here is a picture of it.
Up until that night, I had never thought to mix popcorn with ice cream. But one of the ladies having dinner with us, lived in Gulf Shores and swore by this dessert. She ordered it and was kind enough to let all of curious folks take a bite, or two, or three. All right she had to order another one. That was some serious GOODNESS!!
Fast forward and now that I'm home, I decided to try to recreate that ice cream dessert as a sundae. So I created a vegan brown sugar ice cream with coconut milk and topped it with a vegan caramel popcorn. I think it tastes pretty close to the original. Even if it was WAY off, this version is still really good and is dairy free. So WIN, WIN!!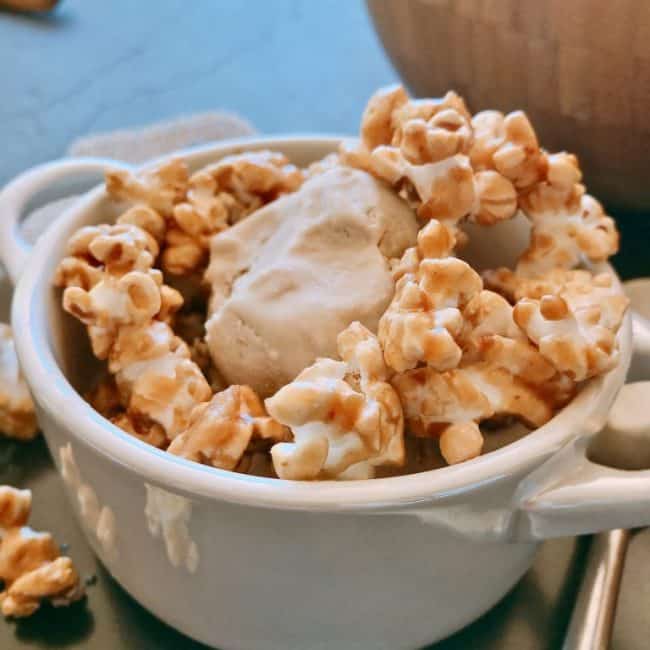 In the past, I've used Barlean's Butter flavored coconut oil in place of butter for baking and melted over popcorn with a little sea salt. But when making a caramel, it acts a little differently, so I modified my caramel recipe a little. This version isn't a true caramel because you aren't boiling the sugar to a certain stage. You are simply melting all the ingredients together, then adding baking soda to make a creamy coating to drizzle over the popcorn.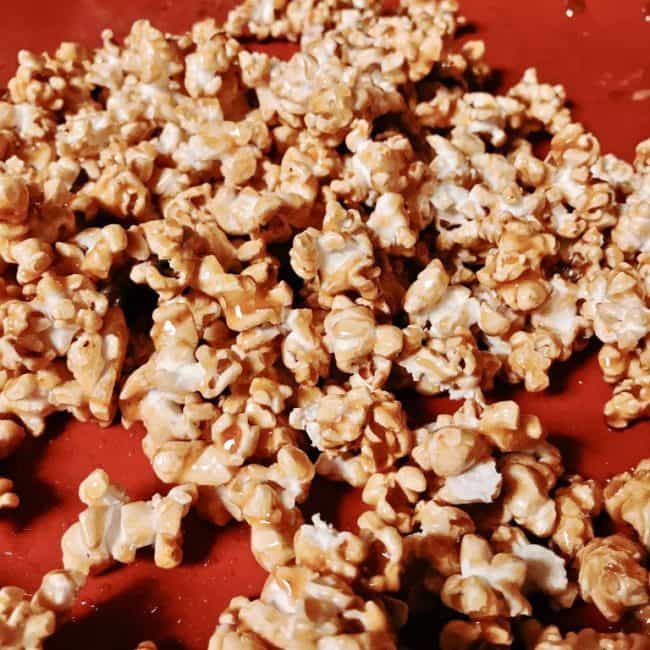 If you chill for a few minutes, the caramel popcorn will harden like the true version. But honestly, it will disappear either way.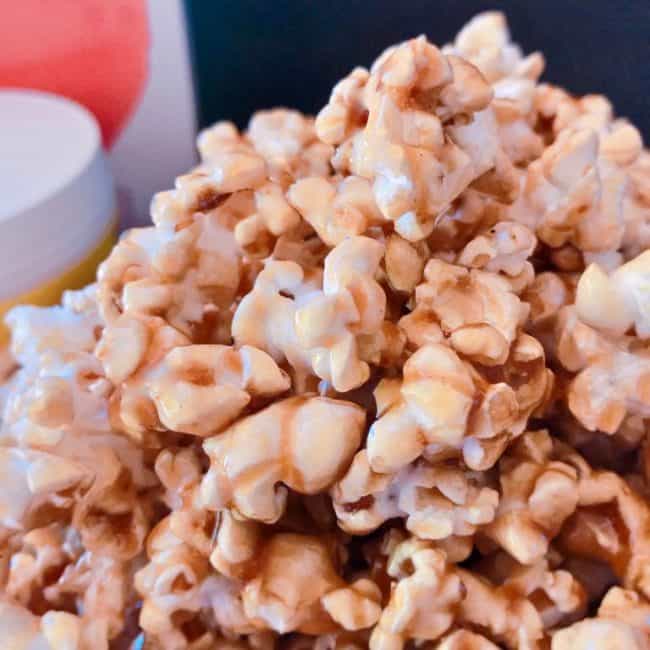 For the popcorn, I'm using this Barlean's Butter flavored coconut oil. It's a 100% BPA free silicone bowl and lid system that make perfect popcorn in the microwave.
The bowl is collapsible making it easy to carry with us when we travel or store in the cabinet at home. Best of all, it's oven safe up to 428 degrees F and dishwasher safe too.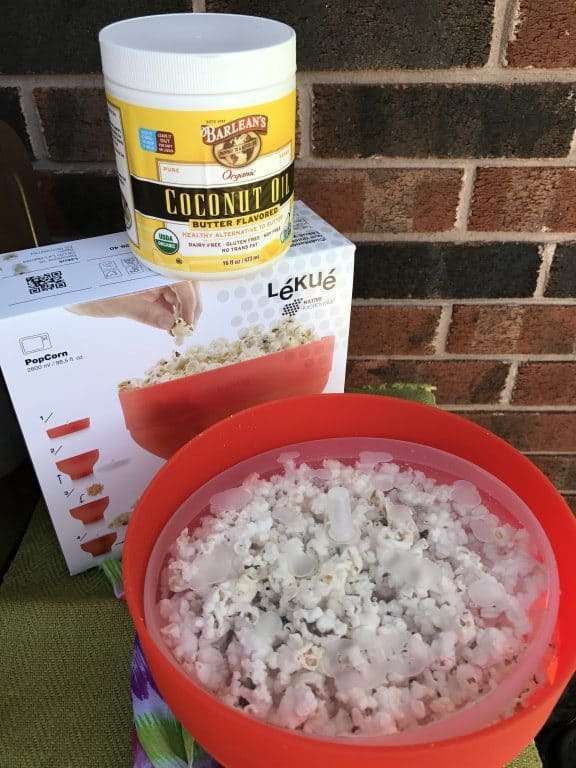 Print off this recipe for Vegan Caramel Popcorn and #popwithBarleans today! But before I give you the recipe, I should mention that if you don't have coconut sugar, you can substitute for organic cane sugar without making any other changes. The taste will be a little different and the color a LOT lighter. Add your caramel corn to a scoop of brown sugar ice cream and enjoy!!!!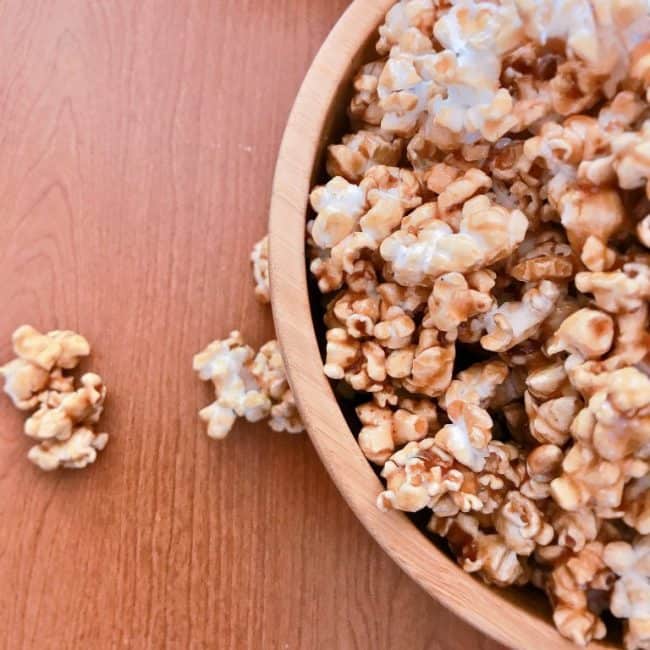 Brown Sugar Ice Cream with Caramel Popcorn | #popwithbarleans
Ingredients
6 cups of Popped Popcorn

Caramel

1/3 cup Barlean's Butter Flavored Coconut Oil
1/4 cup pure Maple Syrup
1/3 cup Organic Coconut Sugar
1 Tablespoons Baking Soda
Instructions
Combine coconut oil, maple syrup, and coconut sugar in a microwave safe bowl.
Cook on high for 1 minute.
Remove from microwave and whisk in baking soda until creamy and all of the coconut oil is incorporated.
Drizzle over popped popcorn and toss to coat evenly.
7.6.5
231
https://www.littlefamilyadventure.com/brown-sugar-ice-cream-with-caramel-popcorn/
LittleFamilyAdventure.com
If you like this recipe be sure to also check out our Chia Cinnamon Popcorn and S'mores Popcorn Mix.
Disclosure: This blog contains affiliate links.  They help pay for the coffee that keeps us turning out adventures week after week. I'll only recommend and share products that I use and love myself. Thanks!
Lekue Microwave Popcorn Popper/ Popcorn Maker, Red

Lekue Extra-Large Innovative Microwave Homemade Popcorn Popper/Maker With 4 Serving Bowls Red

Barlean's Organic Oils Butter Flavored Coconut Oil, 16 Ounce

SaveSave
Please follow and like us: