ALDI helps me save money on groceries everyday. I'm thrilled to have them sponsor this article. As always, everything you are about to read is all me.
I love holiday parties. Don't you? Holiday parties are a great way to celebrate and have fun themed food. Party foods and snacks don't have to be sugar laden desserts, candy, and junk food. You can serve delicious healthy foods that people, even kids, will eat and LOVE. Recently, I got in the kitchen with my kids and created 4 fun and healthy snacks for St. Patrick's Day.
All these St. Patrick's Day recipes are healthy, contain no sugar or artificial colors, and are really delicious!St. Patrick's Day is a fun food holiday. It's all about celebrating Irish culture, food, and drink. It's the one time of the year that you are sure to find green tinted food and green drinks at most every party. Unfortunately, most of those green foods will have artificial food coloring to which I say, "No, Thank You." I don't use artificial food coloring and avoid it in any product I buy. The recipes I'm sharing with you may not be true Irish food, but they have fun Irish details like the shamrock and the leprechaun's rainbow.  Plus, these snacks are green, made so from natural sources.
We've created Shamrock Pizzas with bell pepper shamrocks and pesto sauce, naturally green cilantro hummus with fresh veggies and ALDI brand pita crackers, and Avocado Deviled Eggs that are naturally green too. St. Patrick's Day wouldn't be complete without the leprechaun at the end of the rainbow. So we have rainbow colored fruit skewers as our sweet treat.
We all want our children to eat healthy. That is where ALDI comes in. They are great for families who want to eat healthy and save money too. They offer great everyday low prices on fresh produce and other foods. They make eating healthy easy and best of all, inexpensive.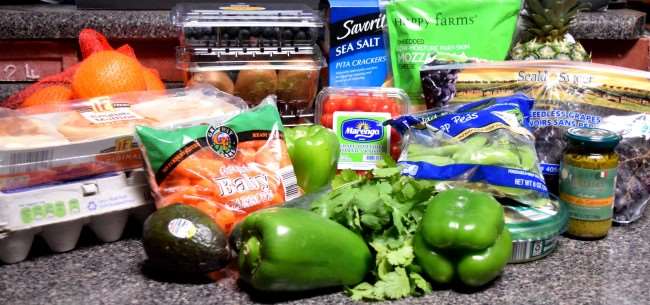 Buying ALDI's exclusive brands are a simple way for me to save money. Look at all the ingredients above that I bought for these 4 recipes. The only things missing are seasonings like garlic powder, salt, pepper, etc. What would you expect to pay for all of this?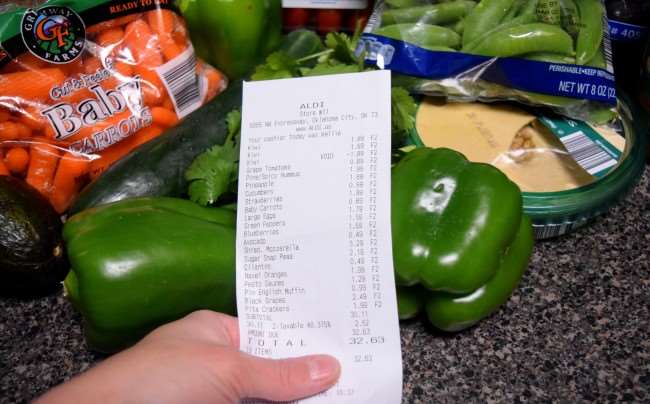 Well, here's what I paid at ALDI. $32.63 after taxes. I envy those states that don't tax groceries. Unfortunately, my state does. But $32 and some change for 4 snacks or appetizers, which will serve at least 12 people each, is really good in my book. How is that for savings?
So now that you know where to go to save money on your grocery bill,  let's get to the party food.
Go to the NEXT PAGE for healthy St. Patrick's Day snacks (recipes).