Happy New Year!
Welcome to 2017! Our January healthy meal plan has your New Year's Resolutions in mind. It features great clean eating recipes that feature real foods, reduced sugar, and whole grains. We want to help you eat healthier and do more in 2017.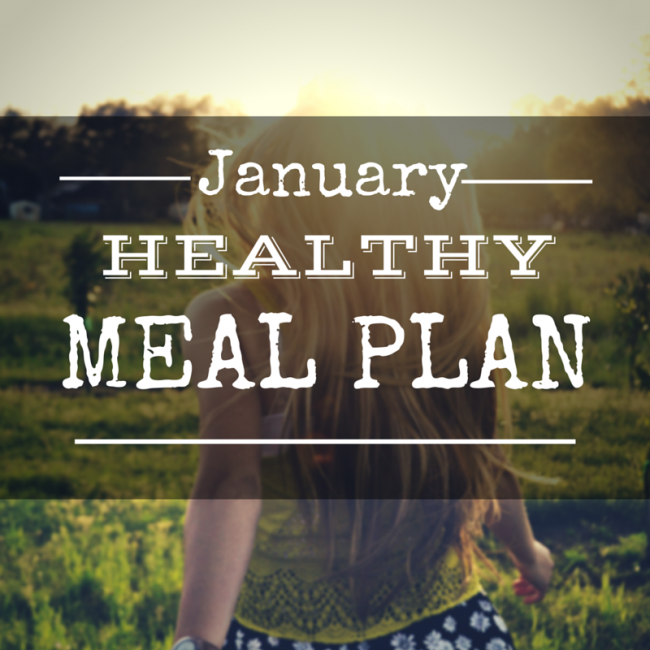 As always, we're getting in the kitchen and making most of the items from scratch with just a handful of convenience items thrown in to save time. Those few convenience foods are still healthy because we'll only use those with a limited number of ingredients. These ingredients would be those that I'd use if I were cooking from scratch. That means no artificial anything.  It's all about real food!
Healthy Family, Happy Family
With each New Year brings renewed determination to be healthier and more active.  This year, Little Family Adventure's motto is "Healthy Family = Happy Family". We believe that when we are active and eat healthy, we have the ability to get out and have more fun together. With this in mind, we bring you a healthy meal plan that is family friendly, introduced a few new dishes, and focuses on quick and easy meals.
January Healthy Meal Plan
Print out this January Healthy Meal Plan to help you create a month's worth of healthy, clean eating meals for you and your family. You can follow the plan to the letter or let it inspire you to create a healthy meal plan of your own.
Each week the January Healthy Meal Plan includes:
Pizza/Flatbread Night
Breakfast for Dinner
Soup and/or Salad Night
International recipes
Seafood at least once
Variety of vegetables
A Weekend Family Meal

This meal may take a little longer to prepare, but is a perfect opportunity to cook together as a family.
Click NEXT PAGE for each week's customized meal plan with recipes. 
Please follow and like us: