These tips and vacation meal plan are sponsored by ALDI. As always, all the opinions expressed are 100% my own.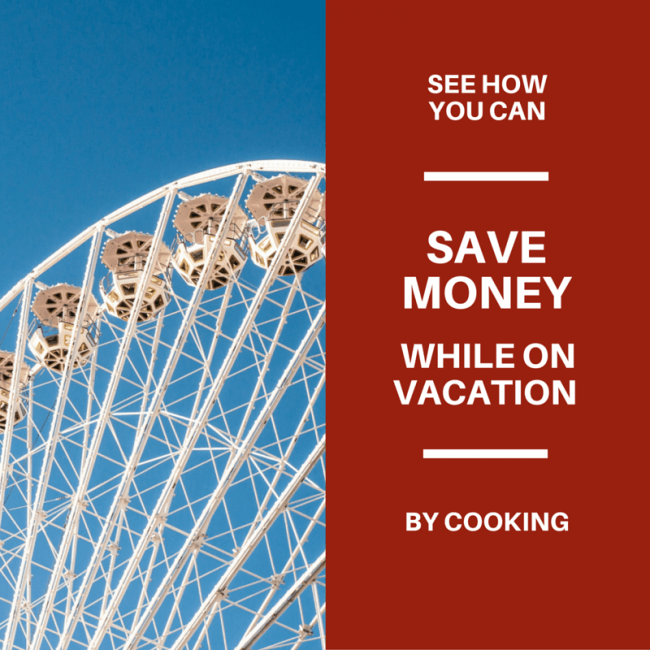 Cooking WILL save you money while on vacation
Family vacations are a great way to relax and have fun together, but they can be expensive. Food is one of the largest expenses on any family vacation. When you are eating all of your meals out, it quickly adds up. Plus the dining options available may not be what you are used or be the healthiest options possible. Let us show you how you can save money on your next family vacation.
Cooking while on vacation saves you money. I know you are probably thinking, "But I'm on vacation. I don't want to cook!" But I'm here to tell you that by planning and cooking just a few meals in your hotel room or vacation rental, you can save hundreds of dollars.
Let's do the math!
The average cost for a family of 4 (2 adults and 2 children) to go out and eat is about $155 per day.
Restaurants in and around theme parks tend to be much higher. But, we're taking an average.
So, that's about $30 for breakfast, $20 for snacks, $45 for lunch and $60 for dinner with tip.
Total Dining Costs for a family of 4, if you ate every meal out, for a 7 day vacation (3 meals a day x 7 days x 4 people =84 meals ) would be $1085.
In December, our family  of 5 went to Orlando for 10 days to visit Universal Orlando Resort and Walt Disney World. If we ate out at every meal, that would be 150 meals ( 3 meals a day x 10 days x 5 people). I would have to budget $1938 or an average of $12.92 a meal per person for food. That would include an $8 entree, $2 beverage, and $2 tip assuming 20%. In total that's nearly $2000!
Instead of paying nearly $2000 on meals, we slashed our food costs by more than one third. We planned to have breakfast in our room 6 days and cook quick, easy dinners on 6 nights. We went to ALDI and spent $120 on groceries. That $120 included all our groceries needed for 60 meals (6 breakfasts + 6 dinners x 5 people), assorted beverages, and 2 bottles of wine. The average cost for each of these cooked meals is $2.00 per meal per person. That's A LOT better than $12.92 per meal when dining out.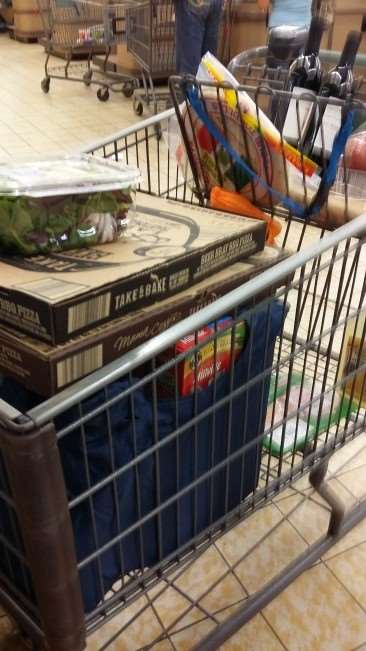 Show me the Money!  
Instead of dining out at every meal, we saved almost $600 on our vacation by shopping at ALDI and cooking in our vacation rental. 
We spent $120 on groceries to cook 30 meals (6 breakfasts and 6 dinners for 5 people) at a average cost of $2.00 per meal. Because we saved money, we splurged a little on dining out in the theme parks. We especially enjoyed 2 dinners that were over $100 each. Our total dining out bill came to just under $1225 for 90 meals ( 4 breakfasts, 10 lunches, 4 dinners, and a few snacks). We could have easily reduced our food costs if we had not gone out to eat as much and returned to ALDI for more groceries. Our total food costs were $1345. We came in under budget saving $593.
ALDI has locations around the US, including several near Orlando theme parks. By shopping at ALDI, I was able to save hundreds of dollars on my vacation. You can save money on your vacation too. Whether you are staying in a hotel room with a microwave and coffee pot or a vacation rental with a full kitchen, we have a few tips to help you save money by cooking while on vacation.

Click NEXT PAGE for Tips & a Meal Plan to Save Money on Vacation Dining