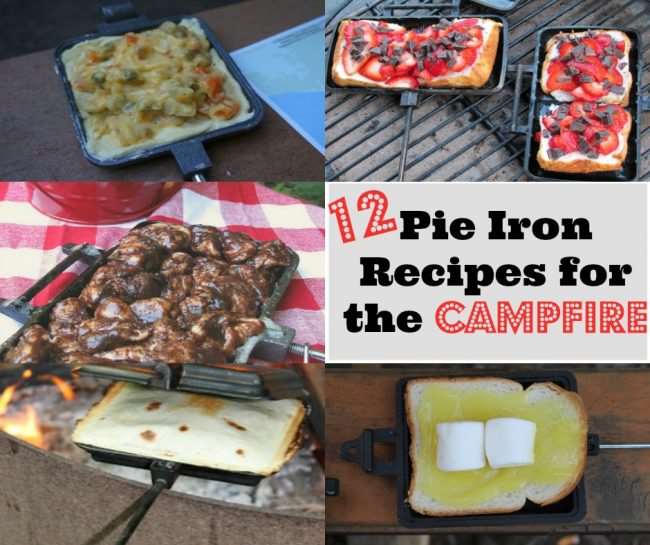 I'm so glad you are here!
You're looking for new camping pie iron recipes for your next campout. Have you ever used a pie iron before?
I have one and really enjoy using it while family with the family.  I'm here to share some of our favorite camping pie iron recipes with you . These 12 recipes are really easy to make and will help make your next campout a HUGE success! But before I share them, there are a few things you should know about camp cooking with a pie iron….
What is a Pie Iron?   Pie irons are shallow metal bowls that fit together and have long handles. They can come in square, rectangular, and round shapes.  A pie iron is an easy way to cook over a campfire, fire pit, or a fireplace at home.
I have this Camp Chef Pie Iron that you can find on Amazon.
Caring for your Pie Iron – Most new irons need to be seasoned before use. Simply cover them with cooking oil and hold over the fire until they just begin to smoke (a few minutes). Wipe clean and repeat a couple times to get a good seasoning on it. Once you are finished, you are ready to use it. (Note: You shouldn't have to season your pie iron after this first time.)
Clean your pie iron after each use and coat with a bit of oil before storing.
Want a complete weekend camping meal plan with recipes & printable shopping list? Click HERE &  make your next camping trip deliciously fun and easy…..
What Can I Cook in a Pie Iron? Just about anything! If you can fit it in the pie iron, you can cook it.
Camping Pie Iron Recipes
Check out these camping pie iron recipes: